I offer unique design solutions for my clients' work and home environments. I take pride in the ability to communicate, to hear clients' needs and translate them into visual solutions with impact.
My abilities encompass pure art as well as creative functional design. The avenues for my skills are varied and ever--expanding. They currently include:
Stained Glass - custom designs for private homes or commercial space, incorporating a wide selection of styles, all original designs.

Art in Glass - free-form eclectic designs for one of a kind gifts, for the collector, galleries and shows.

Garden Gates and Mobiles - Rugged designs incorporating copper wire and pipe as well as chunk glass and found objects, to be hung in the garden, on the porch or deck, or from a tree

Mosaics - in glass and stone

Wall Graphics - Graphics and murals for private homes, corporate space, restaurants, hospitals, health clubs race tracks and more.

Faux Finishes - textural wall treatments, subtle or bold, working with a client's palette to enhance their space and décor.

Window Panels - Painted panels creating a view where there is none.

Color Consulting - Enhancing space with color, providing paint specs for interiors of homes and businesses.

Color Photography - I offer a large inventory of award-winning image, specializing in seascapes, landscapes and close-up photography that capture the design in nature.

Note Cards and Prints - Images from original paintings, provided for resale.
Click the link below to see a sample of Sheila's work.
Sheila can be contacted to design and create a unique and personal piece of art. Sheila is a participant in the annual Over the Mountain Studio Tour, throughout Jefferson Co. WV, the second weekend of November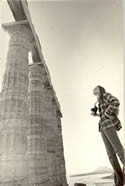 NEWS
Sheila's work can be seen at Tamarack, a collection of fine arts and crafts sponsored by the state of West Virginia, in Beckley, WV.